Due to Covid-19 we are unable to host as we usually do. For the moment we are offering Shabbat Packs each week so you can make your own Shabbat Dinner in your uni accommodations.  A link to a new form to order comes out each Wednesday. Check Chana Sorah's Facebook page for link or private message us.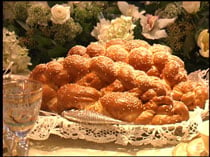 Treat Yourself to Friday Night Live!
Turn Friday night into Shabbat by joining us at The Leeds Student Chabad House.
Every Friday night in and out of term.
October to March - 7.30pm
April to September - 8.30pm 
Whether it's the charm of Shabbat candles or a spirited kiddush, out of this world home-baked challa and a bowl of delicious chicken soup as a part of the gourmet Shabbat banquet, in depth conversations into the night,  or just plain comfort of home, friends and fun, Shabbat at the Leeds Student Chabad House is a must for everyone to experience... 
Reservations are appreciated but are not a necessity